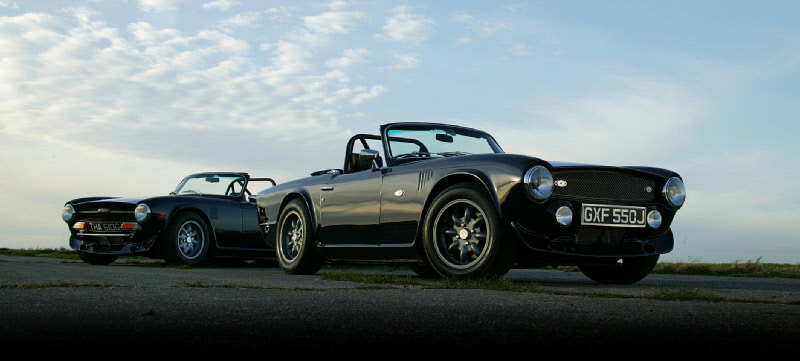 All prices exclude VAT and delivery and are subject to change without notice. Please confirm price at time of order. Orders can be placed by telephone, fax or e-mail; please see the contact page. If you have allowed Flash/ActiveX you can hover on a photograph to
bring up a larger version or click the for more photos and information.

Racetorations have over 20 years of development in modifying the TR gearbox. Our gearboxes are used worldwide. They are reliable and extremely strong. The top of the range boxes use specially made layshafts hardened to approximately twice the standard depth. The lay gear modifications use high speed bearings that halves the point load on the layshaft. The laygear thrust both forward and reverse are converted to a multi- bearing flat roller surface. Synchro rings are competition type hand toleranced into each unit. Quickshaft top covers and co-axial release bearing kits are regularly fitted. The boxes have been used in TR Register championship winning TR4s and TR6s as well as in our 230 BHP Talisman TR6 and many other TRs built to circa 200 BHP+.
Racing Dog Box. Bullet proof race box with option for overdrive mainshaft and high or low first gear. Uses original TR casing with some small modifications. Not suitable for road use as it is noisy and doesn't really need synchro. Comes as a complete gear kit including bearings, shims and a gearbox gasket set. A £250 surcharge will apply if no suitable gearbox casing is supplied. Gear set shown in additional pictures.

Hydraulic Release Bearing kit. Easier and smoother clutch. No slave cylinder and associated linkages to adjust. Self adjusting. comes with all hoses, brackets, bleed facility, release bearing and 0.625 master cylinder.
(GER301) To supply larger diameter case hardened layshaft.
(GER301) In addition to GER301A above, modify laygear cluster and supply and fit three caged bearings.
GT6 Gearbox Modifications. Laygear. To improve the longevity of the GT6 gearbox used in conjunction with modified straight six engines we have increased the diameter of the layshaft and case hardened it to 0.030"+. In addition we have doubled the bearing load surface at the high end of the laygear cluster. This has been done with caged roller bearings, 3 in total. We require your own gearbox and laygear cluster to carry out the modification and we will return it with the correct endfloat. Components are available separately as below to carry out your own modification.

Modified All Steel Gearbox. A or J. £250.00 surcharge if a late steel TR6 gearbox can not supplied for us to modify.
Stag Type A or J Roller Bearing Gearbox. Can be made from late TR6 gearbox. These gearboxes have all the top range modifications of the all steel modified gearbox specification but in addition are fitted with roller bearing thrust at each end of the laygear (countershaft). This allows closer tolerances and reduces friction and improves reliability in fast road or track use. £250.00 surcharge if a late steel TR6 gearbox can not supplied for us to modify.
A Type Overdrive. Fully re-built and bench tested. Uprated road or competition. Old unit surcharge £300.00
Stag Hydraulic Release Bearing kit. Specially developed in conjunction with Faversham Classics to overcome all shortcomings on the original slave cylinder type systems.
J Type Overdrive. Fully re-built and bench tested. Uprated road or competition. Old unit surcharge £150.00