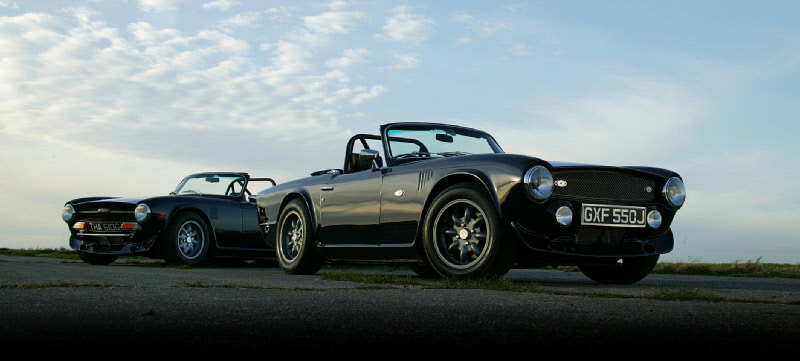 All prices exclude VAT and delivery and are subject to change without notice. Please confirm price at time of order. Orders can be placed by telephone, fax or e-mail; please see the contact page. If you have allowed Flash/ActiveX you can hover on a photograph to
bring up a larger version or click the for more photos and information.

Spun stainless steel inlet trumpets for Lucas injection TRs including air socks that are easily removed for competition work or track days.
Weber Twin Choke Carburetors DCOE40 and DCOE45s brand new, jetted with stainless steel air inlet trumpets and 'O' ring set to seal and fit to manifold. Any modifications to fittings e.g. fuel T pieces, shorter trumpets or modified linkage charged extra.

'Tea Strainer' air filters for 40/45 DCOE Webers or any inlet trumpets with suitable diameter.

Alloy Fuel Tanks. To Suit all TRs. Range covers, standard tanks, larger fuel capacity tanks, tanks with integral swirl pots, foam filled tanks and competition tanks c/w flap valves and large fuel feeds. Suitable for standard senders or VDO dip gauge types. All tanks are baffled and have drain tap facility. Tanks come with undrilled flanges and will fit all TR types even with extra capacity. Will accommodate up to 7" spare in TR4A-6