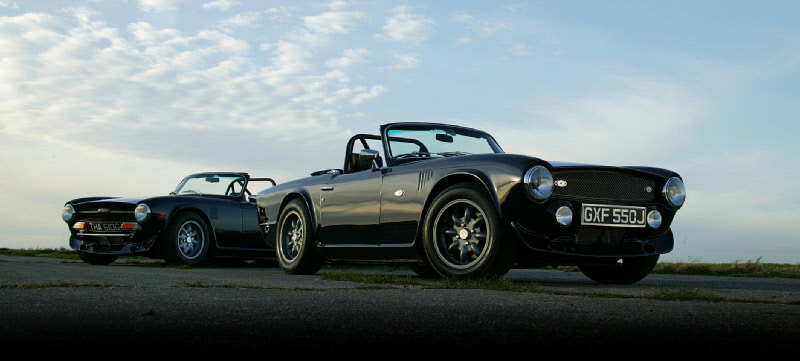 All prices exclude VAT and delivery and are subject to change without notice. Please confirm price at time of order. Orders can be placed by telephone, fax or e-mail; please see the contact page. If you have allowed Flash/ActiveX you can hover on a photograph to
bring up a larger version or click the for more photos and information.

Roll Over Bar with under dash hoop and door bars right and left hand and seatbelt bar. The front under dashboard hoop when attached to the door bars add great all round protection for driver and passenger. The front hoop and door bars are not intrusive and door bars can easily be removed if required.

Full Roll Cage, competition TR4A, 5 Surrey. For all types of competition where full height front hoop is required that fits across the top of the windscreen. Modification to the A post area bodywork is required to be able to fit this cage.

Roll Over Bar Rear Hoop Only. Includes seatbelt bar for anchorage of driver and passenger belts and fixing bolt set. These rear bars are integrated with the cage that has an under dash full hoop to support door bars so that these extras can be added at a later date if required.
Roll Over Bar Rear Hoop TR6. Includes seatbelt bar for anchorage of driver and passenger belts and fixing bolt set.

FIA Homologated Full Roll Cage TR4 LHD and RHD. Welded to body or bolt in. Removeable door bars. Straight A post struts and no incursion past fuel tank firewall. FIA certified to latest 2012+ specifications in CDS or T45.

Twin safety roll hoops and safety bars. TR2-3-3A, A new unique design that offers a number of flexible options.
Option one.
Belt bar with integral side intrusion bars. (Door bars) Bolts into the TR as a stand alone item. Bolted onto the front chassis outriggers through the floor pan using existing pick up points. Bolted through the floor immediately in front of the rear wheel arch where it intersects with the floor. This is a very strong section. Follows the curve up the rear wheel arch and is bolted through the upper arch.
The bar crosses behind the occupants with little intrusion into rear space. Twin seat harness anchor points are slightly below shoulder level. This system gives much improved surround protection in addition to providing a more efficient safety harness anchorage.
Option two.
Addition of two hoops that will fit under the soft top. These can be fitted and removed to the safety bar structure after this has been installed. Either hoop can be removed independently and so run with a single hoop which side you require.
Option three.
One hoop only can be supplied for lone driving with full tonneau on the passenger side.
There will be three different prices depending on the kit that suits you. The fitting kits are included and all metalwork will be coated black. Other colours on request.